Did you know that 3% of all our sales go to a different non-profit each month? 
 When we started our little company, giving back was one of the first things we both decided was going to be a must for us.  Sometimes these organizaitons are close to home like Melanoma Resarch for Lori's brother who passed away or Sarcoma Research for Sharifah, Cathy's best friend who passed away, other times its just organizations we think are important.  
This month we decided to donate to No Kid Hungry, a non-profit dedicated to ending child hunger around the United States and around the world. With most kids starting school in the next month or so it was a perfect group to donate to.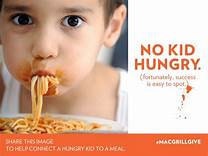 According to their website "More than 12 million children in the United States live in "food insecure" homes. That phrase may sound mild, but it means that those households don't have enough food for every family member to lead a healthy life."  This is unthinkable and so insane when you think of the amount of food waste we see in this country!  
No Kid Hungry helps local groups with implemeting school breakfast, summer lunches, afterschool meals and food skills education for parents to be able to plan and cook affordable healthly meals for their kids. 
 If you would like more info on how to donate to No Kid Hungry go to their website at nokidhungry.org